I have been knitting up a storm and have
this first shawl listed for sale on ETSY.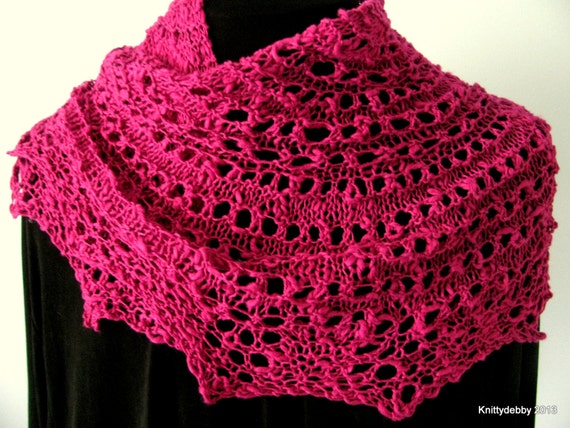 This hand knit shawl was made by me using my Gypsy Lace knitting pattern. The yarn is a very soft cotton called Flake Cotton from Ironstone Warehouse. It is thick and thin with nubs which creates a nice textured fabric that looks comfortable and casual. The color of this shawl is a rich fuchsia.
I also have more of this yarn in Teal, Crocus yellow and Peach. Please contact me if you are interested in a shawl in any of these colors. I will send you a photo of the ball of yarn so you can see the color.
It is a semi circular shawl with eyelet rows and a lace border drawn out to points.
It measures approximately 17 inches from the center back to the bottom edge and 40 inches tip to tip along the top edge.
Hand wash, lay flat to dry. Press lightly and block to re-establish the shape and points of the lace border.